50 rice game. Cult vs Ito. Scenerio: Seigyo
James's Cult List
Gok, with Goks cart attached.
Tadao, with Fresh attached.
Taka, with Kimikos Whistle attached.
Nezumi
Nezumi Kun (refered to as Kun for rest of betrep)
Gaki
Drain Spirit
Steve's Ito List
Itsunagi, with Healing Balm and Kintoki's Salt attached
Kaihime, with Elixir of Vigor attached
Saburo, with Teachings of Yoshushi attached
Chiyo
2 x Temple Bushi
 Setup:
James wins roll and decided to deploy scenery, steve wants the board side facing james so they switch sides.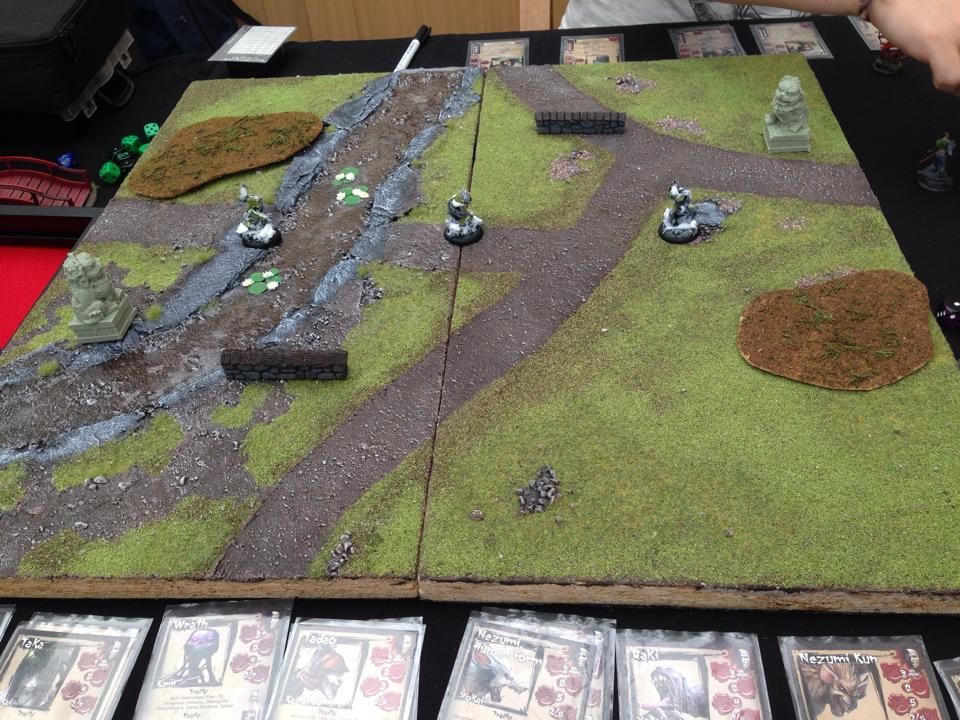 Roll to see who deploys is rolled and James roll's a 1, meaning he is deploying first.
James deploys (left to right) Gaki, Taka, Tadao, Gok and then using scout Nezumi and Kun come in after steve's deployment.
Steve deploys (left to right), Itsunagi, Kaihime, Temple Bushi B, Chiyo, Saburo, Temple Bushi A
Turn 1:
Steve starts off by winning the initiative roll having tactician on Saburo (with card). As most turn 1's go all models are running to the idols or getting into position for attacks, shooting ki feats etc. Steve, runs Kaihime up twice, with Bushi B aslong side, using the Elixor of Vigor she managed to turn the middle idol. James moves Gok and Tadao up the middle, Gok being awesome and passing his stupid tests! Getting Gok into the middle Idol ready and waiting for turn 2 with Tadao on the slow advance!
Saburo and Bushi A run up to the left idol and James running Gaki up to combat the Ito threat, Chiyo sitting back in the distance waiting to see how the game turns out to pounce. Taka runs behind the wall and summons her Wrath whilst Nezumi getting to the right idol and turning it, summoning a rat swarm for extra safety. Kun is also moved up with nezumi, ready for the ratpack attack but Steve moves Itsunagi into position ready for turn 2 to fight but Kun leaps over him and engages, with a quick roll of dice nobody gets any success levels this round! End of Turn 1.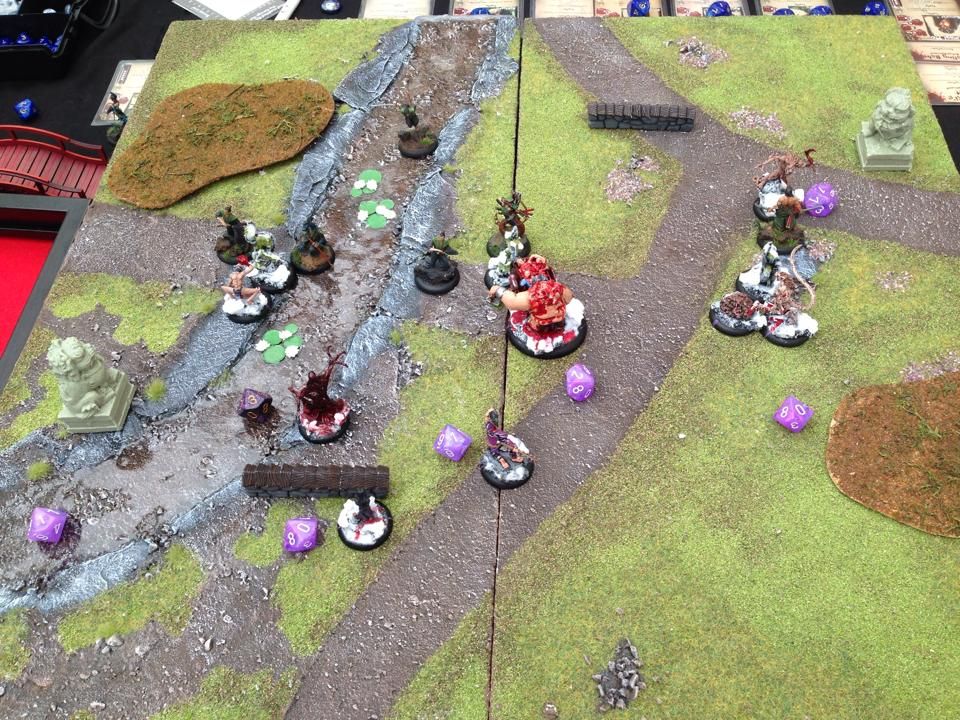 Turn 2:
Turn 2 starts off not so good for James as Steve winning initiative once again due to tactician! Steve sends Saburo into Gaki for a melee which results in Saburo getting a sclv 3 (success level) causing 2 wounds. James sends the Wrath into Saburo, Saburao passing fear test, getting a sclv 3 and cuasing 3 wounds, Wrath getting his wounds up to 5 from his unique effect. Itsunagi melees Kun, both buy a die each and Itsunagi getting sclv 1, causing no wounds. James gets Wrath melees Saburo again, with Saburo only rolling 1 dice being outnumbered by Gaki and exhausted and he rolls a 1 meaning Wrath has a tasty sclv 5 and kills Saburo getting Wrath up to 7 wounds!
Steve sends his Bushi A, around the idol ready to turn it but Gaki moves around left idol and melees Bushi A, who fails the fear test. Bushi feats for Aps Strike, but after dice are rolled only Gaki gets a sclv 2 causing 2 wounds. To the far right Steve see's James trap for Itsunagi for moving him around Kun and melees him, buys a dice and after Kun using his dodge, Itsunagi only gets a sclv 0 causing only 1 wound.
James, uses Goks active ki feat cloud of flies, activates Gok but he fails his stupid test rolling that dredded 1! Kaihime uses this chance to move and get into a good position 5 inches away from Gok to shoot him without any cover. James gets Taka to use her Instill Wrath ki feat on Chiyo, James wins the test, making Chiyo berserk and stunned. Steve has no choice but to charge the Wrath, passing the fear test. The Wrath buys 2 dice  for defence and Chiyo fails to get sclv but Wrath gets a sclv 7, killing Chiyo with one hit!
Tadao uses his enliven ki feat and charges 6" into Bushi B, but Bushi passes the fear test. After rolling dice and tadao using Matrial Prowess, Tadao gets sclv 4 and Bushi gets nothing. Tadao with +2 damage kills Bushi B with one hit! Kahime finally shoots Gok, with having a target number of 3 and causes 6 wounds with a poison marker. Gok activates, passes stupid test and turns middle idol.
Steve with no more activations, sends Nezumi in to melee Itsunagi, Nezumi getting a sclv 2 causing 3 wounds and Itsunagi getting sclv 1 causing 1 wound. Nezumi goes in for the kill and melees him again, Itsunagi opting for side step defence, Nezumi only gets a success level 2 but rolling a 12 on damage to kill Itsunagi where he stands.
Steve seeing that he only has 2 models left in the game and James is 1 VP up at the end of this turn decides to hang in the towel. Ito will limp home tonight whilst the Cult of Yurei having the spoils of victory will fade into the mist once more.